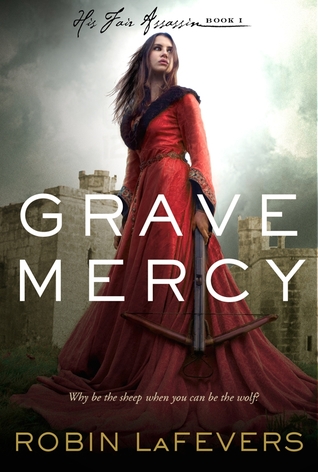 Published April 3rd 2012 by Houghton Mifflin Harcourt
Summary
Why be the sheep, when you can be the wolf?
Seventeen-year-old Ismae escapes from the brutality of an arranged marriage into the sanctuary of the convent of St. Mortain, where the sisters still serve the gods of old. Here she learns that the god of Death Himself has blessed her with dangerous gifts—and a violent destiny. If she chooses to stay at the convent, she will be trained as an assassin and serve as a handmaiden to Death. To claim her new life, she must destroy the lives of others.
Ismae's most important assignment takes her straight into the high court of Brittany—where she finds herself woefully under prepared—not only for the deadly games of intrigue and treason, but for the impossible choices she must make. For how can she deliver Death's vengeance upon a target who, against her will, has stolen her heart?
Grave Mercy


My Review 5/5 Sta

rs
SUCH A GOOOOOOOD BOOK!
This book is a bit hard to review, for me, because pretty much all I want to say is YES, READ IT! READ IT NOW!
I didn't really know anything about this book going in because I like going in blind to books. I will give a short synopsis of what happens but won't have any spoilers.
The Story:
The story is very interesting, it's a mix of historical fiction and fantasy. I was pleased that this book contained magical abilities because I LOVE fantasy!
Ismae, the main character, for the last four years had been raised in a convent that trains young women to become Death's assassins. Here Ismae finds a home and is trained in many arts that will make her a successful Handmaiden of Death and do his will (which involves killing people). She's given an assignment outside the convent that challenges everything she believes.
The Characters:
Ismae is wonderful! She's a character that grows throughout the story and is a strong person physically but also in her determination to do what she believes is right.
Duval....swoon my heart! Duval reminds me a lot of Hector from The Girl of Fire and Thorns or Chaol from Throne of Glass. These type of male characters are my FAVORITE!!!!!
Side characters
All the characters are rich in their development and are easily understood (whether they're good or evil).
Romance
Does this book have romance? YESSSSSSSSSSSSSS and I love it!
There is much to say about this book but I really don't like giving much away so all I have to say is
READ READ READ READ READ READ READ IT!!!!!